UK regulators are urging air display pilots to ensure they have reached the required level of proficiency for participation following the prolonged absence of practice resulting from pandemic-related restrictions.
The Civil Aviation Authority believes display flying will be able to resume later this year, based on recent government guidance.
But it has expressed concern over the possibility that certain flying skills could have lapsed while pilots might be unfamiliar with the latest requirements for display operations.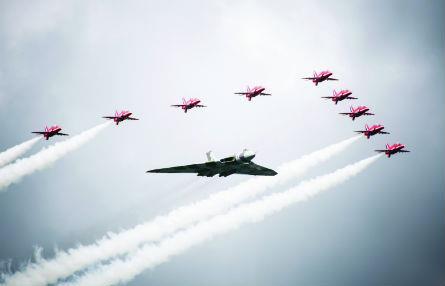 "With the protracted period of reduced aviation opportunities caused by the pandemic," says the authority, "it is essential that, before any such display flying is performed, pilots and organisers refamiliarise themselves fully with all aspects of display operations and achieve an acceptable level of flying currency and safety."
Aircraft currency requirements for permit-to-fly ex-military aircraft, and display pilot currency requirements, remain.
The CAA adds that pilots must achieve a minimum currency requirement – comprising three complete display routines flown or practised – within 30 days of the planned display. This applies to all display aircraft and aerobatic skill levels.
Flying display directors are also being "strongly" advised to seek assistance of another experienced director, present on the day of the event, for support, given the "limited" activity during the 2020 display season.
"It is further recommended that [flying display directors] make use of a flying control committee at smaller flying displays where [such a committee] would otherwise not be mandated," the CAA says in a 19 April safety notice.
"Additional support, experience and associated networking provided by [a control committee] will greatly assist [directors] as they make a return to directing flying displays during [2021]."
It adds that it plans to host an online flying display symposium on 24 May.