Dutch investigators have opened an initial probe into an incident in which a Boeing 747-400 freighter apparently shed engine parts after departure from Maastricht.
The aircraft had "engine problems" and lost several metal parts after it took off from Maastricht-Aachen airport on 20 February, before diverting to Liege, says the South Limburg arm of safety co-ordination authority Veiligheidsregio.
Metal parts fell in the Sint Josephstraat district of Meerssen, which lies between the city and the airport, about 2km along the extended centreline of runway 21.
"Two people were slightly injured. One of them was taken to hospital," the authority adds. "Several cars and houses were damaged."
While the Dutch Safety Board has not formally identified the aircraft involved, it appears to be a Longtail Aviation 747-400 converted freighter.
The aircraft – provisionally identified as VQ-BWT, originally delivered in 1991 to Singapore Airlines – took off from Maastricht for New York at about 16:10.
According to Cirium fleets data it is fitted with Pratt & Whitney PW4056 engines, from the same powerplant range – although a different model – as the PW4077 engine involved in the United Airlines Boeing 777 failure event over Denver on the same day.
Maastricht airport's operator says an "engine fire started" after the 747 departed and it "lost debris" over Meerssen before landing in Liege. FlightGlobal understands the left-hand outboard engine was involved but this has not been formally confirmed.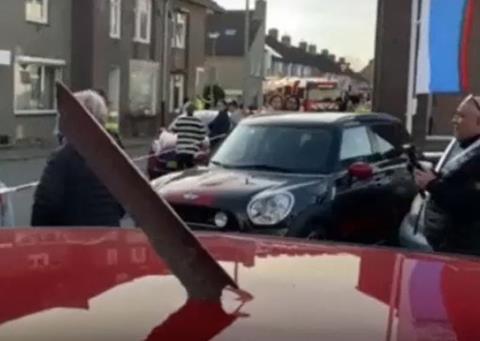 The Dutch Safety Board says it has commenced an "exploratory investigation" into the event – a month after it started looking into the shedding of an underside fuselage panel of another 747-400 freighter which had been climbing to cruise altitude over the Netherlands.
South Limburg's safety authority says the police have requested any debris found to be left alone, and that damage to vehicles or other property should be reported to insurance companies.