Investigators have disclosed that a KLM Cityhopper crew aborted their take-off roll from Amsterdam after overhearing take-off clearance being granted to another aircraft ahead of them on the same runway.
The Dutch Safety Board says the decision averted a potentially serious collision, pointing out that the crew had already acted before a runway incursion alarm alerted the air traffic controller to the situation.
It states that the Cityhopper Embraer 190 crew had been cleared for a full-length take-off from Schiphol airport's runway 18C on 27 July 2018.
But the inquiry adds that a KLM Boeing 737-800 had been approaching the runway from the W4 intersection, located about 1km beyond the 18C threshold.
The 737 crew heard the take-off clearance for the Embraer, and stopped past the hold-short line, telling the controller that they were "on the runway" – whereupon the controller cleared the 737 for take-off.
Although the Embraer pilots commenced their take-off roll after seeing the 737 had not encroached on the runway, they aborted after hearing the clearance.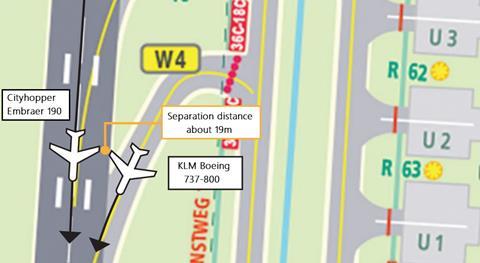 The Embraer passed the 737 – positioned on the boundary of the intersection and the runway – at a speed of 85kt and a distance of about 19m (62ft).
Shortly afterwards, the inquiry says, the tower control received a runway incursion alert and cancelled the Embraer's departure.
But the investigation states that the alert was "not an effective safety barrier" during the event, because it only activated after the Embraer crew had already acted on their own initiative. More effective, it says, was both crews' using the same radio frequency to communicate.
The inquiry points out that the use of W4 for intersection departures carried risks, because it serves as a high-speed exit and connects with the runway obliquely, rather than perpendicularly, which limits crews' view of traffic already on the runway and approaching the intersection.
Such practices are "discouraged internationally", it says.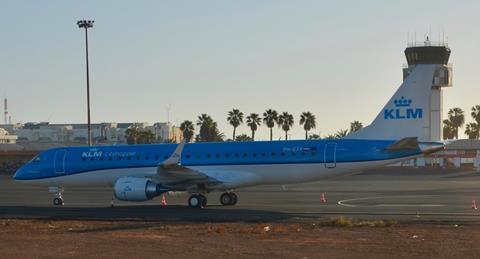 Investigators also point out that runway 18C is used less often than other runways for take-off, and has differing designations for exits and departure routes. Use of the runway in combination with others increases complexity for air traffic controllers.
No-one on board either aircraft (PH-EXV and PH-BXI) was injured during the incident.