European and US safety regulators are cautioning operators over the potential effects of misapplying biocides to aircraft fuel, including multi-engine loss of thrust control.
The manufacturer of one type of biocide, however, has ordered a suspension to using the product after an incident which appeared not to have resulted specifically from misapplication.
Biocides are used to counter the spread of waterborne micro-organisms which, if water accumulates in fuel tanks, feed off hydrocarbons in the fuel.
While the European Union Aviation Safety Agency says that "good housekeeping" to prevent water accumulation is the primary defence, it acknowledges that biocides are necessary if contamination is detected and states that personnel must follow correct procedures regarding method and dosage.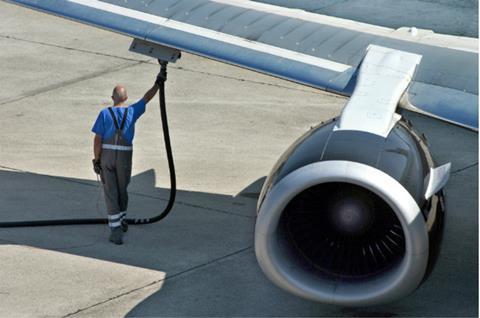 EASA says that "several" recent events have been recorded involving "adverse engine effects", both in flight and on the ground, after biocide treatment.
While two of these resulted from overdose of the fuel system, one incident – involving the use of DuPont's Kathon FP 1.5 biocide – has revealed "no evidence" of misapplication.
DuPont has instructed operators and distributors to cease using the product immediately for aviation fuel treatment, says EASA, while investigators probe a possible "higher susceptibility" of some engine fuel-control systems to the biocide.
The US FAA states that General Electric is following up the DuPont instruction by taking measures to remove Kathon FP 1.5 from its list of approved fuel additives across all its engines, pending further testing.
Neither EASA nor the FAA has yet resorted to issuing a specific airworthiness directive, limiting their responses to safety bulletins, but the FAA says that "some individual [directive] action" might be necessary on certain aircraft-engine combinations.
The FAA notes that Kathon FP 1.5 is one of the two most common biocides in operation, the other being Biobor JF.
It says that concentrations of these additives in uplifted fuel should be respectively limited to 0.135ml and 0.269ml per litre.
Both EASA and the FAA are recommending that relevant parties should ensure they have adequate procedures in place for biocide treatment and, after Kathon FP 1.5 discontinuance, measures are taken to prevent biological risks – including non-use of contaminated fuel.