South African investigators are probing a wing-tip strike by an Airbus A350-900 during a crosswind landing at Johannesburg earlier this month.
The Ethiopian Airlines twinjet (ET-AYB) had been arriving from Addis Ababa on 6 November.
It was conducting an approach to Johannesburg's runway 03R and experienced a "strong crosswind", says French investigation authority BEA, citing South African counterparts.
"The aircraft made contact with the runway surface on its right-hand wing-tip," it adds.
None of the occupants was injured. The extent of damage sustained by the aircraft, says BEA, is unknown.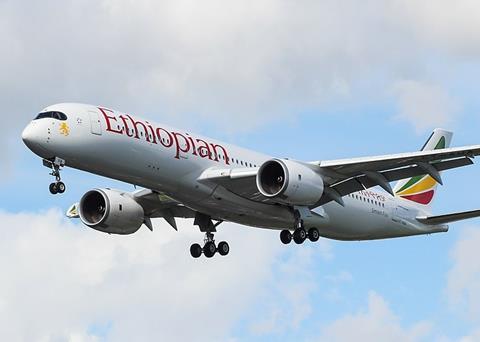 Meteorological information from Johannesburg airport shows the airport had been experiencing winds from the north-west for much of the day.
Airbus data on the A350-900 suggests that a wing-tip strike in level pitch would require the aircraft to be banked around 11°.
BEA has not indicated whether the Rolls-Royce Trent XWB engine pod made contact with the ground.
Airbus backlog data shows the aircraft had been delivered to Ethiopian exactly a year before the incident, one of a pair of A350-900s handed to the carrier on the same date. The other (ET-AYA) has been on display at the Dubai air show this week.