Russian carrier SKOL has been blacklisted by the European Commission over safety concerns, but restrictions on all Moldovan operators have been lifted.
SKOL became immersed in a dispute with Russian federal regulator Rosaviatsia earlier this year after the authority ordered withdrawal of more than 30 aircraft from its operating certificate over alleged failure to maintain lease payments.
The carrier was operating over 50 aircraft, mainly helicopters, but its fleet also included Let L-410s and a Yakovlev Yak-40.
It has been blacklisted over "concerns about its ability to comply with international standards", says the European Commission.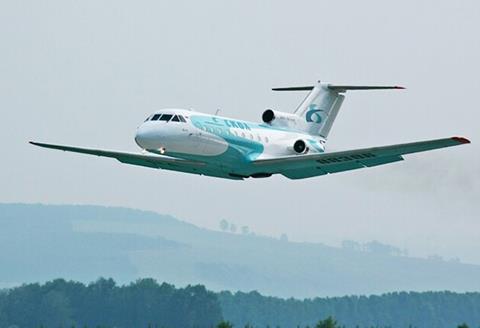 SKOL becomes one of seven airlines individually banned from European operations, although another 90 airlines remain barred overall as a result of blanket prohibitions on 15 countries.
Several Moldovan airlines had been added to the blacklist in 2019, although flag-carrier Air Moldova – along with Fly One and Aerotranscargo – were excluded.
But the latest revision removes all certified carriers in Moldova from the blacklist. The Commission says this is the result of "improvements to aviation safety in the country".
European transport commissioner Adina Valean says the lifting of restrictions against Moldovan operators follows "two years of intense work", and adds: "It shows that hard work and close co-operation pay off."