French investigators have warned that the wake turbulence from helicopters can be worse than that from similar-sized aircraft, following the probe into a fatal accident involving a paraglider.
The Airbus Helicopters EC135, with a medical crew of four, had been called on 11 May 2019 to assist an injured person on a beach at Conquet on the north-east French coast.
It approached from east to west, passing south of the beach. The pilot noticed kitesurfers and, as the helicopter turned right to a north-east heading in preparation for landing, saw a paraglider in flight to the right.
French investigation authority BEA says the pilot did not opt to conduct a go-around, in order to avoid disturbing the air in the paraglider's vicinity. He monitored the paraglider and asked a technical crew member to monitor the kitesurfers on the left, to ensure separation.
But as the helicopter flew north-east, parallel to the beach, winds from the north-west pushed its wake turbulence trail in the direction of the paraglider, who was flying about 30ft above a cliff edge.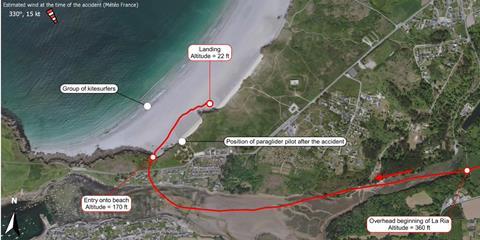 Witnesses told the inquiry that they saw the paraglider's sail close "like a book" and the paraglider was fatally injured during the fall.
BEA stresses that a helicopter's downwash while hovering translates into a substantial wake turbulence trail during forward flight.
"The few published studies show that the wake turbulence of a helicopter is greater than that of an aircraft having an equivalent weight," says investigator Angelique Lefevre.
"In particular, the wake turbulence of the largest helicopters is often similar to that of commercial aircraft."
She adds that the nature of missions for which helicopters are used meant they are "more likely" to fly in close proximity to other air traffic.
BEA says individuals attempted to alert the paraglider to the presence of the helicopter as it approached, but that the paraglider – flying low and close to terrain – probably had limited manoeuvring options and, if he was aware of the helicopter, is likely to have continued on his planned flightpath to minimise the risk.
"Lack of manoeuvring on the paraglider's part could also indicate he was unaware of the danger posed by wake turbulence at that moment," it adds.
Helicopter crews tend to be aware of the risk to those on the ground from downwash, but the inquiry says the pilot of the EC135 (F-HTIN) believed collision-avoidance was assured at the time and did not realise that the wind conditions would blow the wake towards the cliff and the paraglider.