Tanzanian carrier Precision Air believes at least 19 fatalities resulted from an ATR 42-500 accident at Bukoba during which the turboprop came to rest submerged in Lake Victoria.
The aircraft – identified by the airline as 5H-PWF – had been operating a service, PW494, from Dar es Salaam.
Precision Air states that the aircraft had been "approaching" Bukoba, in the north of Tanzania, and "crash landed" in the lake.
It has not detailed further circumstances of the accident.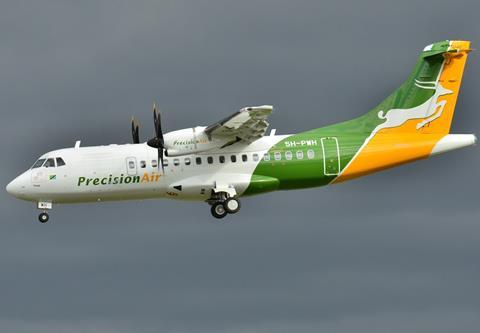 But the Tanzania civil aviation authority says the aircraft landed in the water "short of the runway", some 500m from the threshold.
This suggests the aircraft was conducting an approach to Bukoba's runway 31, the threshold for which is about 130m from the lake shore.
Thirty-nine passengers and four crew members were on board. Precision Air says 24 of them survived the accident, according to emergency services.
The type of approach and the weather conditions at the time of the event, at 08:53 on 6 November, have not been confirmed.
Powered by Pratt & Whitney Canada PW127M engines, the turboprop was delivered new to Precision Air in 2010.
ATR says its specialists, in line with international protocols, are "fully engaged" to support the carrier and the investigation into the accident.