French investigators are probing an incident in which a Cessna CitationJet passed over a Hop Embraer 170 after suffering an in-flight altitude deviation.
The CitationJet – a 1995 airframe operated by VallJet and registered F-HGPG – was operating a non-scheduled service from Paris Le Bourget to Geneva on 12 January.
It had been climbing through 23,000ft with its autopilot engaged when it suddenly experienced a change in aerodynamic load and an increase in nose-up pitch.
Although the executive jet had been cleared to a cruise altitude of 27,000ft, it reached 28,000ft and "passed over" the Embraer 170 which was en route from Lyon to Caen, says French investigation authority BEA.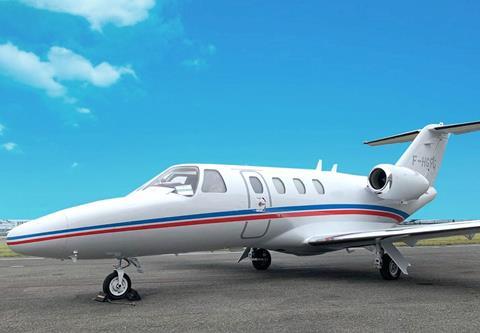 It states that the CitationJet crew reported a failure of altitude and speed indicator, and an erroneous altitude transmission by the transponder of 27,000ft.
Neither of the aircraft received an airborne collision-avoidance system warning.
BEA indicates that the incident occurred in the vicinity of Auxerre but states that no injuries resulted. It identifies the Hop aircraft involved as F-HBXG.