Airbus has developed a further modification for A380 wing spars intended to block a potential path for fuel to leak onto hot main landing-gear components.
This follows an earlier discovery, during a walk-round of one aircraft, of fuel leaking from the root of the right-hand wing.
Analysis found that fuel accumulating outboard of rib 13 could potentially track along the lower wing and onto the wing's main gear, resulting in a fire propagation path up to the wing.
The airframer had originally devised a change involving addition of three drainage holes in lower wing panels aft of the rear spar, between ribs 13 and 15.
But while this was mandated in March 2019, the European Union Aviation Safety Agency says these extra drain holes "do not entirely prevent" fluids from passing inboard of rib 13.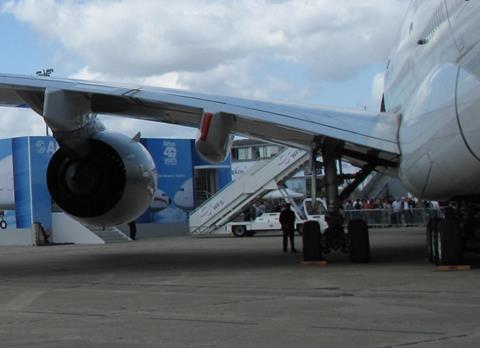 Airbus has developed an additional modification involving installation of five seal plates, to shut off holes in the lower rib and insert two extra drain holes in the wing panels.
EASA says A380 operators must carry out the work within 12 months, unless the aircraft have already had the changes introduced during production.