Indian regulators have cleared the country's carriers to resume operations with Boeing 737 Max aircraft.
It marks a further significant milestone for Boeing in securing clearance for the type since regulators around the world unilaterally grounded the Max in March 2019 following two fatal crashes within six months. Regulators began lifting the ban on Max flights after the FAA last November cleared the type for operations.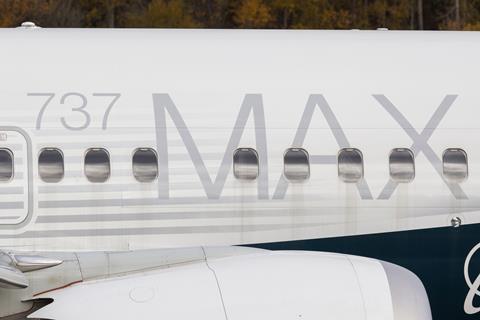 As a first step India's Directorate General of Civil Aviation (DGCA) in April allowed foreign-registered operators of the Max to overfly the country, but local carriers were unable to fly the type aside from operational readiness flights.
It has today issued a fresh order clearing the Max for flying by Indian operators "upon satisfaction of applicable requirements for return to service". It cites the 345 aircraft flying globally since restrictions have been lifted "with no untoward reporting" for clearing the type.
SpiceJet, which has a fleet of 13 Max aircraft, is the only current Indian operator of the single-aisle type, with former customer Jet Airways having ceased flights. Earlier today SpiceJet said it hoped to resume Max flights by the end of September, pending regulatory approval.
It leaves China as the biggest major market still to give the Max the all-clear to resume services.