Iranian investigators have arrived at the facility of French accident analysis bureau BEA with the flight recorders from the Boeing 737-800 shot down over Tehran in January.
The arrival of the Iranian team at BEA's facility in Paris marks an important advancement in the investigation, after six months of uncertainty over allocating the task of decoding the cockpit-voice and flight-data recorders.
Iran's Civil Aviation Organisation, which is heading the inquiry, says the recorders were retrieved immediately after the crash and delivered to its offices, where they have been "kept in a safe place" with appropriate security measures. After arriving in Paris, the recorders were put under guard by the French police under a co-ordination plan with the Iranian embassy.
BEA says "preliminary discussions" are taking place between the various stakeholders. The French and Iranian authorities signed a technical co-operation agreement on the issue on 4 July.
The cockpit-voice recorder will be the first to undergo examination.
Representatives of several organisations will attend the work, including Ukraine International Airlines – the operator of the aircraft – the Ukrainian, Swedish, US, UK and Canadian investigative authorities, plus Boeing, Safran and ICAO among them.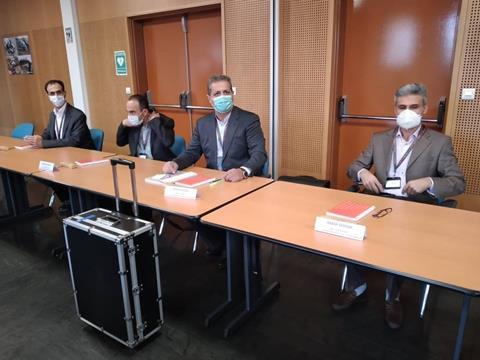 Iran's CAO recently disclosed that it had traced the 8 January loss of the 737 to an alignment error involving an air-defence system during a period of high alert for the Iranian armed forces.
The 737, which had taken off from Tehran Imam Khomeini airport, had been erroneously indicated as an inbound target from an unexpected direction, and two missiles were launched at the jet without clearance from a co-ordination centre.
None of the 176 passengers and crew on board survived.
Information from the recorders might assist with providing additional information on the aircraft's condition before the attack, indicate whether the crew were aware of, or discussed, the developing military situation and its potential risks, the dynamics of the missile strike, the damage to the 737, and any response from the flightdeck.
The European Union Aviation Safety Agency has newly revised its previous warning to air traffic operating in Iranian airspace.
"Due to the hazardous security situation, and poor co-ordination between civil aviation and military operations, there is a risk of misidentification of civil aircraft," it states.
There are various advanced air-defence systems in operation, it says, and the risk to aircraft flying below 25,000ft is "high".
"Operators should take this information and any other relevant information into account in their own risk assessments, alongside any available guidance or directions from their national authority as appropriate," adds EASA.