Kazakhstan's president has warned that those responsible for the fatal Bek Air Fokker 100 accident at Almaty face serious consequences.
President Kassym-Zhomart Tokayev says the country's prime minister, Askar Mamin, will lead a government commission into the 27 December crash.
The presidential office states that those found to be liable for the accident will be "severely punished" under the law.
Preliminary information from the Kazakh emergency situations committee indicates that the aircraft's captain is among the fatalities, after the aircraft – bound for Nur-Sultan – crashed into a building almost immediately after departure.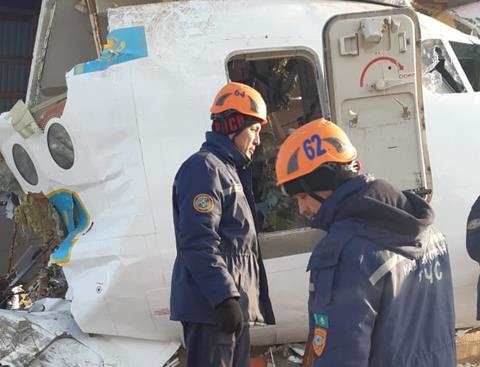 Bek Air is not among the Kazakh carriers listed on IATA's operational safety audit register.
The airline had previously been involved in a dispute over compulsory IATA audits, which the government had been requiring as part of its efforts to improve safety standards.
Bek Air had protested in early 2016 against this requirement to pass the audit, arguing that it was costly and would unfairly affect its fare structure, given that the domestic airline was privately-owned and did not receive government subsidies. It also claimed that it had operated safely for several years.
The carrier's stance had been at odds with that of Air Astana, Qazaq Air and SCAT – all of which have passed the IATA safety audit and feature on the registry.
Bek Air had been prepared to taken legal action but subsequently indicated that the Kazakh civil aviation regulator had amended its position to enable carriers to undergo the audit at their discretion.
Just a few weeks after the dispute emerged, the airline was involved in a gear-up landing at Astana – now known as Nur-Sultan – when a Bek Air Fokker 100 was forced to touch down with its nose-gear retracted.
At the time the carrier had been blacklisted by the European Commission, as part of a blanket ban on Kazakhstan imposed in 2009. The Commission had stated, in its justification for the blacklisting, that there was evidence of unresolved serious safety deficiencies at Bek Air, formerly known as Berkut Air, which had been identified during ramp inspections in France and Romania.
Kazakh authorities have temporarily grounded Bek Air following the Almaty accident. The circumstances of the crash have yet to be determined.