A private jet crashed into San Diego Bay on 9 September after attempting to land at a nearby airfield.
"A multi-engine Learjet 36 landed on a beach retaining wall after sliding off the end of a runway at the Naval Air Station North Island in San Diego, California, shortly after 1:00pm local time on Friday. There were an unknown number of people on board," the FAA says.
The mid-size jet can transport seven passengers and two crewmembers.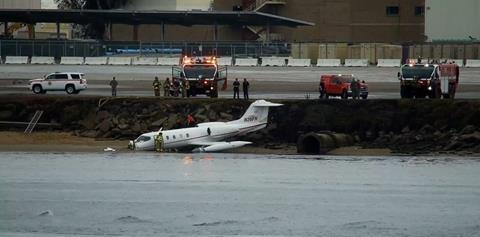 According to flight tracking website FlightAware.com, the aircraft with the registration N26FN took off from North Island at 12:22 local time and proceeded to fly figure eight patterns for about 30min over the Pacific Ocean before returning to the field.
The weather at the time of the crash appears to have been inclement.
The US aviation regulator adds that it will join the National Transportation Safety Board (NTSB) in investigating the accident. "The NTSB will be in charge of the investigation and will provide additional updates."