Australian investigators are probing an incident in which a Saab 340B's fuselage was penetrated during a domestic flight, injuring a passenger.
The aircraft involved (VH-VEQ) was operated by Link Airways on behalf of Virgin Australia.
It departed Canberra for Sydney on 10 November, but the Australian Transport Safety Bureau says a strap was not removed from a propeller blade prior to flight.
"[The strap] penetrated the fuselage of the aircraft during take-off and a passenger received minor injuries," it states. "The aircraft sustained minor damage".
Investigators describe the event as an "aircraft preparation occurrence". The aircraft returned to Canberra.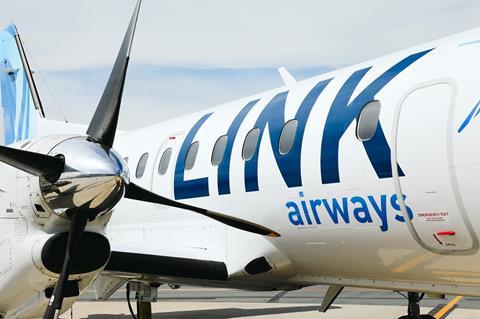 The inquiry will involve crew and other personnel interviews, and a review of recorded data and operator procedures, says the ATSB.
"Should a critical safety issue be identified during the course of the investigation, the ATSB will immediately notify relevant parties, so that appropriate safety action can be taken," it adds.
The aircraft was originally delivered to US regional carrier Mesaba Airlines in 1997.
It was subsequently operated by PenAir before eventually being transferred to the Link Airways fleet earlier this year.