A Lion Air Boeing 737-900ER suffered a runway excursion after landing during a heavy rainstorm at Lampung airport.
The jet, registered PK-LGP, arrived from Batam's Hang Nadim international airport at 14:45 local time, and veered off the runway after turning towards the airport's parking bay.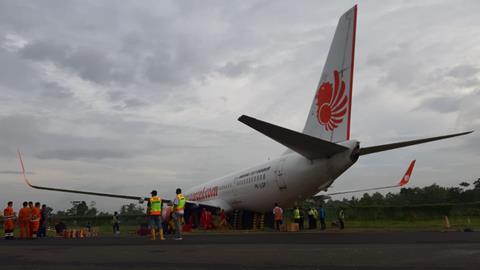 Lion Air states that when the aircraft, operating flight JT173, landed at Lampung's Radin Inten II airport, there was a heavy rainstorm, but that visibility still "met qualifications for landing processes".
All 128 passengers and seven crew members were evacuated safely from the aircraft, the carrier adds.
Indonesia's National Transportation Safety Committee has begun investigations into the incident.
As of the morning of 21 December, Lion Air says it is beginning the extraction process for the aircraft.
Cirium fleets data indicates that PK-LGP was delivered to the Indonesian low-cost airline in 2009, and was briefly parked for two months from April this year, amid the coronavirus pandemic.