Nepalese authorities are searching for a missing Tara Air aircraft which disappeared en route to Pokhara in the centre of the Asian state.
The Viking Air DHC-6-300 Twin Otter had departed Jomson for the domestic service at around 09:55 on 29 May.
Twenty-two people were on board the twin-turboprop, including 19 passengers and three crew members.
The aircraft last contacted Jomson airport at 10:07, less than 15min after departure.
"A helicopter had been sent for the search of the aircraft," says the airline. "However, due to bad weather, the helicopter had to return back to Jomson."
It says helicopters from other airports including Kathmandu and Pokhara are on standby and will continue the search if weather improves.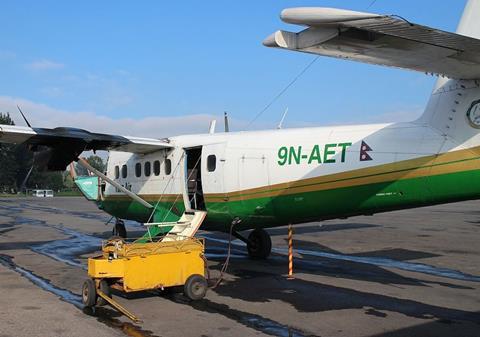 Ground searches are also underway involving Nepalese law enforcement.
"Owing to the complex geography, the location of the aircraft is still unknown," says the Civil Aviation Authority of Nepal.
Tara Air has identified the missing aircraft as 9N-AET. The airframe was originally delivered to Air Botswana in 1979 – some 43 years ago – and was acquired by Nepal's Yeti Airlines, which is tied to Tara Air, in 1998.
All Nepalese airlines, including Tara Air, are blacklisted by the European Commission – a status which was imposed nearly a decade ago.