Nigerian carrier Azman Air has been ordered to suspend Boeing 737 operations in order to undergo a safety audit.
The Nigerian Civil Aviation Authority says the measure – which takes effect from 15 March – affects all 737s across the airline's fleet.
It states that the decision follows a "series of incidents" with Azman 737s. The airline uses older variants including the 737-300 and -500.
"The suspension is to enable the authority conduct an audit of the airline to determine the root causes of the incidents, and recommend corrective actions," it adds.
"[We] regret the inconvenience this action may cause to the public, particularly to Azman Air passengers. But the need to ensure the safety of air transport, and protect the public interest, cannot be compromised."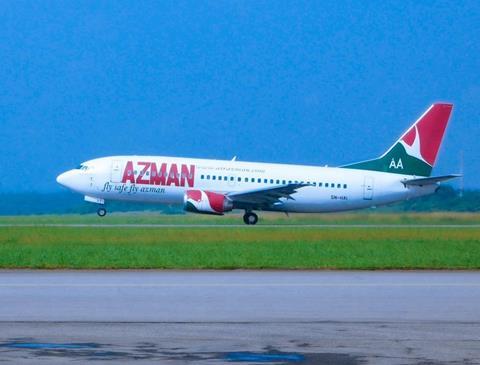 Nigeria's Accident Investigation Bureau disclosed last month that it was looking into a 16 February incident involving an Azman 737-500 which burst tyres on landing at Lagos.
Azman Air had disclosed its suspension but initially gave few details beyond stating that there would be a "comprehensive" audit of its internal safety processes.
"These actions are imminent as there is need [to] reposition [in order to serve] you better," it says. "We understand the impact of these disruptions on your travels, and we deeply apologise."
The carrier says it is aiming to demonstrate its "commitment" to safety.
"We are working round the clock to ensure the [necessary tasks are] done and operations restored within a short period of time," it states.
Privately-owned Azman Air, based in Kano, operates not only 737s but an Airbus A340-600 – a former Virgin Atlantic aircraft it acquired in March last year.