Bosnian investigators have concluded that damage discovered on a Croatia Airlines De Havilland Canada Dash 8-400, following a service to Sarajevo, was not caused by weapons fire.
The aircraft, arriving from Zagreb on 22 June, sustained damage to its fuselage which the Bosnia and Herzegovina prosecutor's office initially said "might have been caused by bullets from firearms".
It ordered an inspection of the aircraft, in the presence of the country's civil aviation directorate, to determine the nature of the damage and check the turboprop for airworthiness.
"The observed damage did not endanger the safety of the flight and passengers," the office says.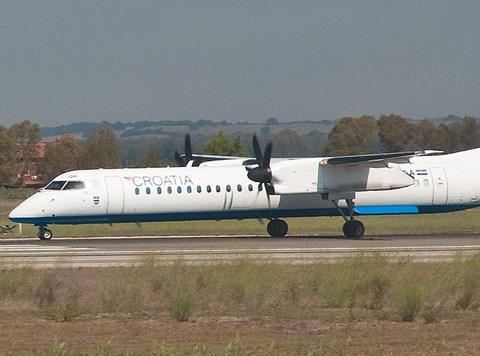 Investigators subsequently ascertained that there were "no indications" that would lead to the conclusion that weapons were involved.
Analysis found no traces of gunpowder residue, or other clues that would point to the aircraft having been struck by a projectile from a firearm.
The damage was caused by "mechanical shock", the prosecutor's office adds.
Video images carried by Croatian media indicate ground personnel paying close attention to apparent damage forward of the wing of the turboprop (9A-CQA), which has been in the carrier's fleet since delivery in 2008.