One of Thai carrier Nok Air's Boeing 737-800s has skidded off the runway while landing at Chiang Rai airport in the far north of the country.
It appears to have suffered an excursion from the left side of runway 03.
The twinjet, operating flight DD108, was transporting 164 passengers and six crew members from Bangkok on 30 July, says the carrier.
It states that it arrived at Chiang Rai at 21:06 but "heavy rain" caused the aircraft to leave the runway.
All passengers and crew disembarked and were transported to the terminal. "No one was injured in any way," claims the airline.
"The company will co-operate with the relevant authorities to expedite investigation of the cause of the incident."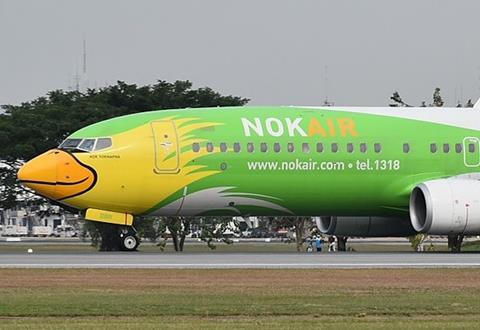 Meteorological information from Chiang Rai at the time of the event shows thunderstorms and rain.
Preliminary information, based on photographs from the scene, indicates the aircraft involved is HS-DBR.
Cirium fleets data lists this aircraft as having been delivered new to the carrier in 2014, and leased from Kuwaiti firm ALAFCO. The condition of the aircraft following the excursion has yet to be confirmed.
Chiang Rai airport has issued a NOTAM declaring runway 03/21 closed "due to disabled aircraft".