None of the 28 occupants of an Antonov An-26 survived after the aircraft collided with high ground while attempting to land at Palana airport on the Kamchatka peninsula.
The regional government has confirmed that the fatalities from the 6 July accident included six crew members: the two pilots, a navigator, flight mechanic, another on-board operator, and a single flight attendant.
Regional governor Vladimir Solodov says work at the crash site, in a coastal area, resumed early on 7 July with the low tide providing a window for wreckage to be retrieved and identified.
Rescuers are concerned that debris and even the casualties could be washed out to sea, and are considering deployment of a floating crane.
"The main thing is to find [the flight recorder] that will help the aviation authorities draw conclusions about the causes of the disaster," says Solodov.
"After detecting the flight recorder and decrypting the pilots' conversations, the authorities will be able to draw conclusions about the correctness of the pilots' actions."
Images of the scene released by the Russian emergency situations ministry indicate an impact site atop a steep rocky shoreline escarpment crowned with forest.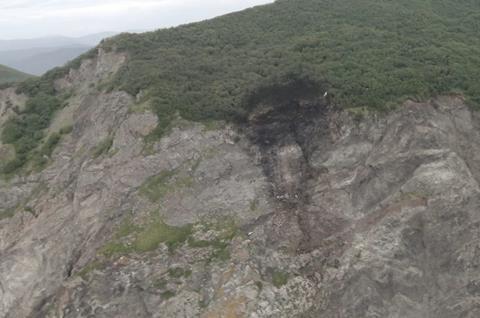 The ministry says it has sent a team of rescuers including divers with equipment to carry out underwater searches, and is prepared to use a Mil Mi-8 helicopter to assist if the weather conditions improve.
Kamchatka Aviation Enterprise flight 215 had been scheduled to land at Palana following a service from Petropavlovsk-Kamchatsky.
The head of the local air traffic control service, Vladimir Datiashvili, says the aircraft departed at 12:57 and passed without incident through the control centres.
It was transferred to controllers of the Tigil district at 14:09 and, from this region, the aircraft's captain contacted Palana control for information on weather conditions.
"The information was received in full," says Datiashvili, before the aircraft was transferred to Palana control at 14:39.
Some 10min later, at 14:50, the captain was given "clear co-ordinates of the route" during the final state of the approach, he adds.
"After that, communication with the aircraft was interrupted. The controller reported this to the flight director. Then actions were taken to search for the missing aircraft."
The wreckage was discovered over 6h later, at 21:06, following an extensive hunt which involved reconnaissance by other An-26 aircraft and support from vessels, including a tanker, in Shelikhov Bay.
Investigators have not specified whether the aircraft collided with the terrain during its initial approach or whether there is evidence it had been conducting a go-around at the time.