Security specialist Liberty Defense is aiming to start delivering initial production versions of its Hexwave walk-through detection systems in the second quarter of next year, following testing at locations including Toronto Pearson airport.
Hexwave combines millimetre-wave technology and 3D imaging, plus artificial-intelligence algorithms, to detect threats including non-metallic weapons.
Liberty Defense says the system, which features standalone units, does not require passengers to divest personal items such as phones, footwear, wallets or keys and is capable of handling a high throughput of over 700 people per hour.
Toronto Pearson has been serving as a beta test site for the equipment.
"We feel that security screening is not a sustainable approach right now," says Greater Toronto Airport Authority associate director for safety and security Jeffrey Barrow.
"What Hexwave does is give us that opportunity to have that walking-pace, seamless, intuitive, more passenger-friendly experience than today's security screening."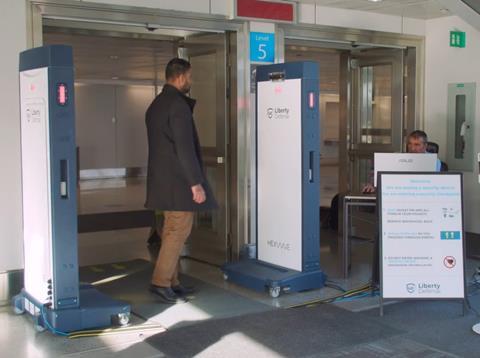 Liberty Defense, located near Boston, says it will continue testing this year and into 2023, in order to meet demand from other organisations seeking to pilot the technology.
Toronto Pearson's operator became the first airport company to sign up to test the portal, under an agreement earlier this year.
"We at Toronto Pearson are always looking at new innovations, trying to improve the passenger experience, while at the same time improve security effectiveness at the airport – creating a safe security environment for all," says Barrow.
"Hexwave gives us that opportunity while, at same time, ensuring that the core value of the airport, its safety, is maintained."
Liberty Defense says it has also been working with the US Transportation Security Administration on an evaluation of the Hexwave system.
"We believe we are well-positioned to deliver a truly disruptive walk-through weapons and threat detection solution," says Liberty Defense president Michael Lanzaro, adding that the company is holding discussions with other airports, airlines and government facilities.
He says this technology is not limited to current test sites but other markets in which "intrusive" and time-consuming manual searches take place.
"In addition to using thousands of scenes of operational data, collected at each of the beta sites to further optimise our [artificial intelligence] algorithms, we are already procuring our longer-lead materials for manufacturing of the commercial system," he adds.