One of Russian budget carrier Pobeda's Boeing 737-800s has suffered a runway excursion during departure from Perm.
Video footage circulating on social media, purportedly taken during the incident, shows the aircraft – bearing registration RA-73294 – at a standstill on snowy ground, with passengers disembarking by stairs.
The aircraft had arrived on a service from Moscow Sheremetyevo on 8 January, and was due to carry out the return flight.
It appears to have attempted to take off from Perm's runway 21 at around 07:20 but failed to maintain runway alignment at the beginning of the run.
The Ural transport prosecutor's office says the aircraft, operating flight DP6512, had powered up for take-off when its nose-gear veered off the runway onto the "adjoining part of the airfireld".
It says 183 passengers and six crew members were on board.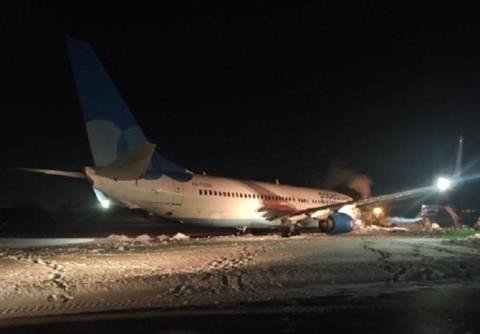 Meteorological data from Perm at the time indicates light snow and temperatures below minus 30°C, and wind from the west.
Russia's Interstate Aviation Committee has yet to give any further details of the incident.
The aircraft was originally delivered to Aeroflot Group in 2014 under the Bermudan registration VQ-BTD, according to the Bermuda civil aviation authority.
Russian regulators have controversially re-registered multiple aircraft retained by Russian carriers after sanctions were imposed over the Ukrainian conflict.