European Commission president Ursula von der Leyen has described as "utterly unacceptable" an incident in which a Ryanair flight was forced to land in Minsk, apparently to enable Belarusian authorities to detain a political activist.
The Boeing 737-800 – registered SP-RSM, from Ryanair's Polish division Buzz – was operating flight FR4978 from Athens to the Lithuanian capital Vilnius on 23 May.
But during transit of the Minsk flight information region, the aircraft was forced to divert, after the crew received information of a security threat.
"All passenger must be able to continue their travel to Vilnius immediately and their safety ensured," insists von der Leyen.
"Any violation of international air transport rules must bear consequences."
Minsk airport's operator says the facility received a message at 12:50, stating that the flight had squawked the emergency transponder code '7700' – triggered by a message that explosives were on board.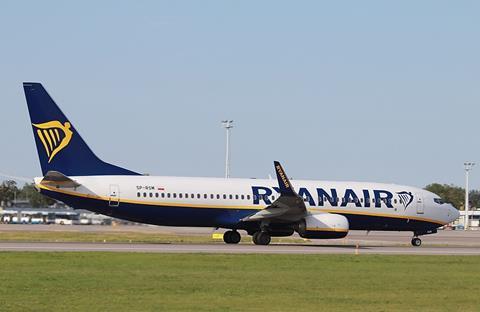 At 13:15, it says, the aircraft landed at Minsk, touching down on runway 31R. Unconfirmed reports suggest an RSK MiG-29 combat aircraft escorted the Ryanair flight, but little evidence has emerged to verify a military presence.
"The aircraft was met by airport emergency crews, ambulance personnel, aviation security officers and dog handlers," the airport operator says, adding that representatives of law enforcement agencies were also working at the scene.
It says all 123 passengers underwent "additional" aviation security measures and were taken to the airport transit area while baggage was removed and checked. No evidence of explosives was found.
The airport does not mention any detention of passengers, but the Belarusian authorities have reportedly held political activist Roman Protasevich who was on board the aircraft.
Ryanair says the aircraft – having been "instructed" to divert to the "nearest airport" – stayed on the ground in Minsk for 7h before being cleared to depart, following security checks by local authorities, to Vilnius where it subsequently landed at about 21:25.
It says it has notified relevant national and European safety and security agencies, and says the "regrettable delay" was "outside Ryanair's control".
Austria's foreign ministry says the diversion reports are "alarming" and states that an independent international investigation is needed, adding that it "urgently demands" the release of Protasevich.
Lithuanian prime minister Ingrida Simonyte has demanded that Belarusian authorities "immediately release" all passengers and crew detained in Minsk, and that the aircraft be allowed to fly to Vilnius without further delay. The country's general prosecutor's office says it will lead and co-ordinate an investigation under the national criminal code.
"This is a serious and dangerous incident which requires international investigation," says NATO secretary general Jens Stoltenberg.
Opposition activity against Belarusian president Alexander Lukashenko has increased since the controversial election of August 2020, which the head of the European Union's delegation to the United Nations described as "neither free nor fair", and a subsequent government crackdown on protesters, opposition leaders and journalists.