French investigators have indicated that a minimum safe altitude alert for a Bombardier CRJ1000 was triggered after its crew misunderstood a pressure setting.
The aircraft was being operated by Air France regional division Hop on a domestic service from Lyon to Nantes on 20 October.
According to investigation authority BEA the aircraft was preparing for a required navigation performance approach to Nantes airport's runway 21.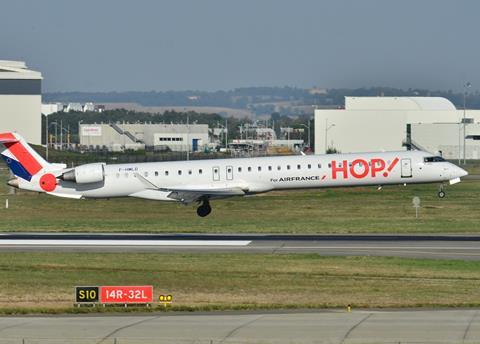 Air traffic control cleared the pilots to descend to 3,000ft on the basis of a QNH pressure setting of 1002mb.
But BEA says the crew read back a QNH setting of 1021mb. This would have led the altimeter to incorrectly indicate the aircraft was flying above its actual height by around 500ft.
"During the final approach the [minimum safe-altitude warning] alert was triggered," the authority adds.
None of those on board the twinjet was injured during the incident, which it has categorised as "serious".
Cirium fleets data lists the aircraft involved (F-HMLD) as having been delivered new to the airline in 2011.