Regional carrier PSA Airlines is again flying its MHIRJ CRJ jets after having grounded the aircraft for mandatory inspections, PSA parent American Airlines says.
"PSA Airlines resumed regular operations today following the temporary removal of its aircraft from service," American says on 29 January. "All aircraft inspections are complete and all aircraft are in place for today's operation."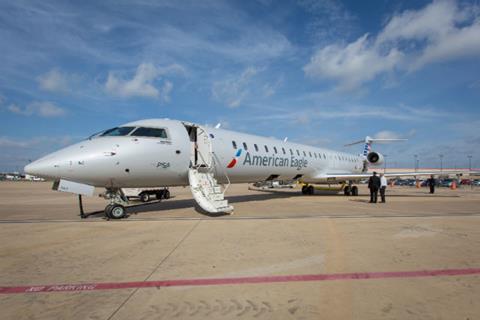 "We expect minimal disruption to passengers today with a small number of planned cancellations and delays," the carrier says.
The jets were removed from the network on 28 January after an airworthiness directive from the FAA mandated checks on three of the aircraft's nuts and bolts on the nose landing-gear doors "that need to be re-torqued", American says.
MHIRJ, the Mitsubishi Heavy Industries unit, acquired the CRJ programme from Bombardier in 2020.
Dayton, Ohio-based PSA operates routes for American from hubs in Charlotte and Philadelphia, according to its website. Its fleet includes 129 CRJ-series jets, including 60 CRJ700s and 69 CRJ900s, according to Cirium fleets data.