Investigators have found that an engine-driven pump's overheating preceded a hydraulic leak before an Iran Air Fokker 100 was forced to land at Tehran Mehrabad with its main landing-gear retracted.
Iran's Civil Aviation Organisation found that the aircraft, inbound from Qeshm on 19 March last year, had suffered a series of similar hydraulic problems in the previous three days.
Recurring defect reports are generated if a defect emerges four times in 10 flights, says the inquiry.
But it states that the crew of the outbound Tehran-Qeshm service, despite experiencing such a problem, had not recorded it in the technical log – meaning that a recurrent defect notification was not issued.
The inquiry says the preceding event indicated there was a "hidden failure" in the System 1 hydraulic circuit which had not been detected by aircraft maintenance personnel.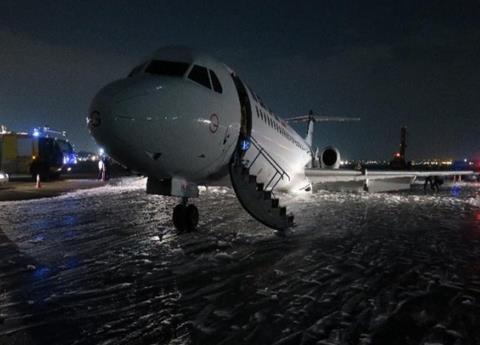 No problems had been recorded in the six weeks after the jet (EP-IDG) was released from a C-06 check on 1 February 2019.
But hydraulic and engine pump failures started emerging on 16 March, affecting three flights, and again on 19 March when occurrences were noted on two flights, including the outbound Tehran-Qeshm service.
During this service the crew noticed an abnormality in the System 1 circuit as the aircraft neared cruise, and opted to switch off, then switch on, the related engine-driven pump – although this was not recommended by the quick-reference handbook.
The system appeared to return to normal conditions, says the inquiry, and the crew "did not report the event" in the log. If the occurrence had been recorded, remedial action could have been taken at Qeshm, it adds.
As a result the issue was not addressed. The inquiry says a faulty check valve in the hydraulic system resulted in an engine-driven pump overheating, and a hydraulic leak. This resulted in the crew's experiencing problems with extending the main landing-gear during the approach to Tehran.
It adds that a seizing of the landing-gear locking mechanism also prevented successful manual extension of the undercarriage. The aircraft landed with its main gear retracted on runway 29L, but none of the occupants was injured.