Russian investigators are to analyse the flight recorders from the Bek Air Fokker 100 which crashed during take-off from Almaty on 27 December.
The recorders have been retrieved from the wreckage, says Kazakhstan's ministry of industry, and they will be transferred to the Russian Interstate Aviation Committee for analysis in Moscow.
Kazakh prime minister Askar Mamin, who is chairing the investigation commission, says the inquiry aims to present preliminary findings by 10 January.
The aircraft lost altitude during take-off at 07:21, the prime minister's office states, as it commenced the Z92100 service to Nur-Sultan.
Kazakhstan's air navigation service has indicated that a problem occurred at 07:22, when radar contact was lost, and the alarm was raised. Emergency services located the aircraft 1.8km from the runway on the outskirts of the Guldala settlement, the office adds.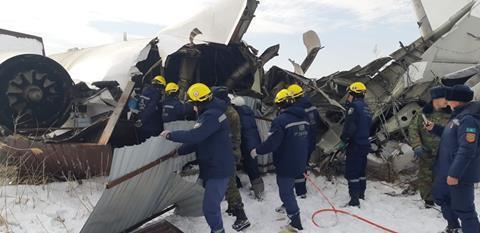 Ninety-eight occupants were on board, including five crew members, and the accident has resulted in 12 fatalities. Another 53 people have been hospitalised, with 17 in critical condition.
Kazakh carriers Air Astana, Qazaq Air and SCAT have stepped in to assist passengers affected by cancellations and schedule disruption after Bek Air was grounded in the aftermath of the crash.
Air Astana is also putting on extra flights between Nur-Sultan and Almaty, and from Almaty to Aktobe, Aktau and Atyrau, says the government.
Bek Air had been due to operate services to several other domestic destinations – among them Shymkent, Uralsk and Pavlodar – over the remainder of the year and the beginning of 2020. The government says nearly 9,800 passengers had been booked on Bek Air services for 3-10 January.