US investigators have been scrutinising shimmy damper mechanisms from a Red Air Boeing MD-82 which suffered a main landing-gear collapse and runway excursion after touching down at Miami.
The aircraft – arriving from Santo Domingo on 21 June last year – touched down on runway 09 but, some 1,300ft into the roll, tyre deposits showed evidence of left main-gear shimmy.
This shimmy increased steadily in amplitude until the left gear collapsed about 675ft later, and the jet veered to the left, striking a glideslope equipment building and antenna. Both the right main-gear and the nose-gear subsequently collapsed.
When the aircraft (HI1064) was lifted during recovery, its left gear was found to be rotated by 90° around the vertical, with the inboard tyre forward.
The MD-82 has a single-axle main landing-gear and uses a shimmy damper to prevent excessive vibration during braking. It comprises a self-contained unit with a housing and hydraulic reservoir – the hydraulic fluid is used to dampen the motion. Fluid can be added using a bleed port at the top or a check valve on the bottom.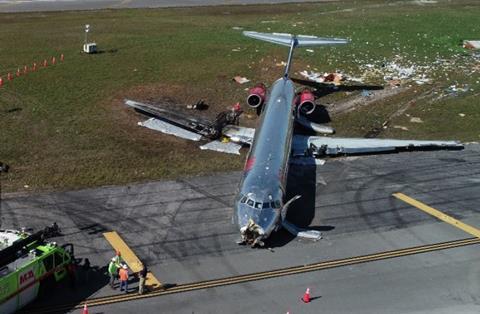 According to newly-released information from the National Transportation Safety Board, the left landing-gear and shimmy damper were examined last year. The reservoir, which had been found in newly-mown grass after a search, showed evidence of damage from mower blades.
Computed tomography was carried out on the check valve, which is supposed to open under pressure to fill the shimmy damper reservoir, but seal with minimum leakage to retain the fluid once the pressure is withdrawn.
Testing of the check valve from the MD-82 found that it failed certain leak tests.
The inquiry is not complete and investigators have yet to reach any conclusions over the cause of the accident.
But the safety board states that other Red Air MD-82s – registered HI1069 and HI1066 – parked at Santo Domingo were inspected by the inquiry team in December last year.
The first aircraft had full reservoirs on its shimmy dampers. When the second aircraft arrived, the inquiry team observed several mechanics around its right main-gear, servicing the shimmy damper.
"They were unable to maintain pressure because the fluid would leak out of the check valve at the base of the damper when the servicing hose was loosened," the inquiry states.
"When it became clear that the damper would not hold pressure, they ordered a new part to be delivered from Miami."
Red Air's director of maintenance told the team that the work was a routine check, and the inquiry says the timing was consistent with a three-day S-check. The removed damper was quarantined for examination, which found the check valve was contaminated with metal shavings, traced to incorrect installation and chafing of some shimmy-damper components.