Images circulating on social media indicate that a Kenyan-registered Fokker 50 turboprop has been substantially damaged in a 19 September accident at Mogadishu, the capital of Somalia.
The aircraft (5Y-MHT) has come to rest apparently after striking a concrete wall off the right side of runway 05, suffering severe damage to its nose and cockpit, which ruptured from the main cabin.
Cirium fleets data indicates the aircraft is operated by Nairobi-based Silverstone Air Services, and that it was converted to full freighter use in 2007, when it was used by Sweden's Amapola Flyg.
The turboprop's right-hand wing, main landing-gear and propellers have also been badly damaged, but no serious injuries have been reported.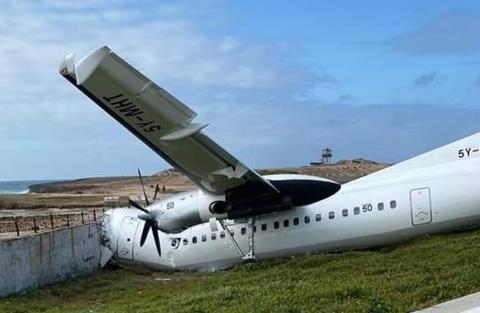 Silverstone Air Services had previously faced sanctions from the Kenyan civil aviation authority over safety concerns, forcing it temporarily to suspend Bombardier Dash 8 operations last year, following an audit.
The operator had been involved in a Fokker 50 runway excursion during take-off from Nairobi's Wilson airport in October last year, and one of its Dash 8s lost a wheel on take-off from Lodwar three weeks later.
Silverstone has yet to disclose further details regarding the circumstances of the Mogadishu accident.