Singapore will be assisting Nepalese investigators in the probe into the crash of a Yeti Airlines ATR 72, by helping to retrieve and readout data from the flight recorders of the turboprop.
Singapore's transport ministry, responding to media queries, says the Transport Safety Investigation Bureau is supporting investigations "at the request" of its Nepalese counterparts.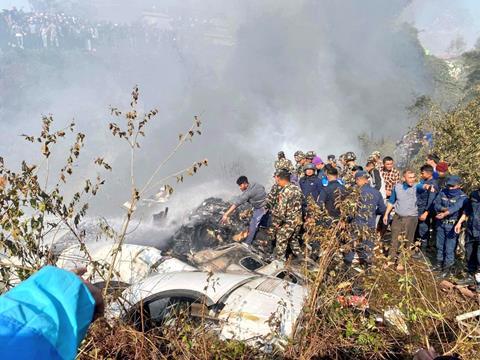 Both countries signed a cooperation agreement on aircraft accident and incident investigation in 2020, covering the use of investigation facilities and equipment.
"All investigation-related information, including the progress of investigations and the findings, will be handled by the Nepalese investigation authority," says the ministry.
According to Nepalese media reports, the recorders will be flown to Singapore on 27 January, with data retrieval likely to take a week.
Reports also suggest that Nepalese authorities were to have sent the recorders to France, but decided on Singapore as the two countries had a cooperation agreement.
On 15 January, the turboprop (9N-ANC, MSN754), operating flight YT691 from Kathmandu to Pokhara, crashed on approach. It was carrying 68 passengers and four crew members.
There are no survivors from the incident, which is Nepal's worst civil aviation disaster in nearly three decades.
Investigators recovered the aircraft's cockpit voice and flight data recorders on 16 January, noting that the recorders were in good condition.
The Civil Aviation Authority of Nepal (CAAN) has began investigations into the crash, with French safety regulators also assisting.