South Africa's civil aviation regulator is investigating an accident involving its flight inspection and calibration aircraft, which occurred shortly after it took off from George airport.
The South African Civil Aviation Authority says the aircraft went missing shortly after departing the airport, on the south coast, at 10:40 on 23 January. It was carrying a crew of three.
While it has not specified the aircraft type, the SACAA's flight-inspection unit uses a Cessna Citation II – a 1986 airframe, registered ZS-CAR.
It had been due to conduct a calibration service for George's navigation aids.
But the SACAA says the airport's control tower could not make contact with the aircraft about 10min after take-off.
It states that it immediately alerted search-and-rescue personnel and it remains in contact with search teams. The authority is due to provide more details on the situation at a 24 January briefing.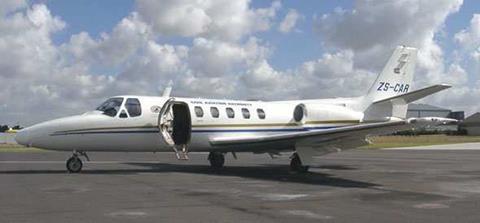 The flight-inspection unit, which originates from 1947, is based at Lanseria airport.
Over the course of seven decades it has operated types including the Douglas DC-3, British Aerospace 125, and the South African government acquired the current Citation II jet in 1986.
In its current form the inspection unit emerged when the SACAA was established in 1998. The regulator says it supports navigation aids across the Southern African Development Community including dozens of ILS, VOR and TACAN installations.