Passengers evacuating a Gulf Air Airbus A321 at Kuwait appear to have caused operational disruption, including forcing a go-around, after straying towards an active runway.
The A321 crew advised tower controllers that they would be evacuating the aircraft on the taxiway after it arrived on runway 33L as the GF215 service from Bahrain on 5 July.
Emergency slides were deployed from multiple exits on the aircraft.
But subsequent air-ground communications appear to indicate that disoriented passengers began heading for the runway.
The crew of a landing Kuwait Airways A320neo, operating KU1742, contacted the tower to advise that passengers evacuating the Gulf Air flight were "walking to the runway".
"They don't know where they're going," the crew added.
Controllers responded by ordering another Kuwait Airways A320neo, on approach as KU614, to execute a go-around because there were people on the runway.
The tower also asked whether the crew of KU1742, having landed, could shut off the aircraft's engines, concerned about the possibility that people might be walking in its vicinity.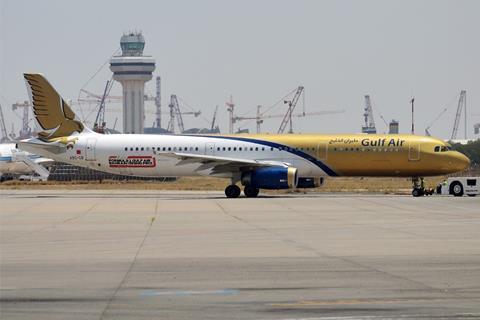 Gulf Air says it is looking into the reasons for the incident and evacuation.
The air-ground communications, archived by LiveATC, suggest the crew had downgraded a 'Mayday' call to a 'pan' urgency call shortly before landing, and referred to a "high temperature in the cargo".
But while the aircraft, after landing and vacating the runway, was given taxi instructions to stand 24, it stopped on a taxiway and proceeded with a full evacuation.
Gulf Air acknowledges a "minor" incident involving the flight, without elaborating, and says the evacuation was a "precautionary measure".
It says all 62 passengers and seven crew members safely left the aircraft and were escorted to the terminal building.
"Maintaining safe operations is a top priority at Gulf Air and we are working with the relevant authorities and our stakeholders to establish the cause of this incident," says Gulf Air acting chief executive Capt Waleed Abdulhameed Al Alawi.
"We apologise for any inconvenience caused to our esteemed passengers."
Images from the scene identify the aircraft as A9C-CB, an International Aero Engines V2500-powered twinjet delivered new to the Middle Eastern carrier in 2012.