United Airlines will begin requiring US-bound passengers from the UK to show proof of a negative coronavirus test result as a more virulent strain of the virus continues to tear across southern England.
The Chicago-based carrier says on 24 December that from 28 December, all travellers on the carrier's flights from London's Heathrow airport will be required to present a negative test result that is no older than 72h. It is also offering same-day testing at the airport.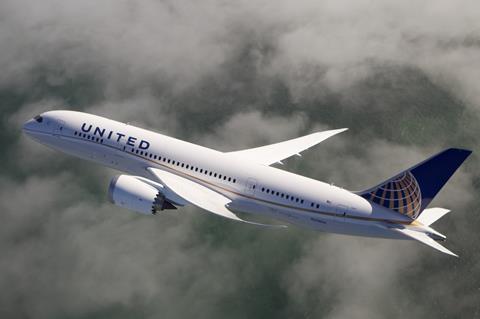 The move comes just days after United's peers Delta Air Lines, British Airways and Virgin Atlantic Airways began offering widespread testing for US-bound passengers from the UK upon the request of New York state governor Andrew Cuomo. Those three airlines operate numerous daily non-stop services between the UK and New York City's John F Kennedy International airport.
United offers non-stop connections between London and its hubs Chicago, Newark, Washington Dulles and San Francisco.
Just last week, the Chicago-based carrier introduced contact tracing for all of its flights as the pandemic continues to unsettle customers who are wary about spending time in close proximity to strangers on an aircraft.
The airline launched the voluntary programme for all international arrivals last week and said it will be phased in for domestic and international outbound departures as well. The airline will gather an email address, phone numbers and an physical address of where the customer will be once they reach their destination.
In November, United had initiated a free coronavirus testing programme for passengers on selected flights between the United States and London.
Indications show that the new mutation of the coronavirus currently spreading in the UK can be transmitted up to 70% more quickly. Medical experts say, however, that it is not more lethal than the known variant, and that the vaccines, currently being rolled out globally, are likely to be equally effective against the new strain.
Numerous countries in Europe, Asia and Latin America have re-imposed travel restrictions for passengers coming from the United Kingdom in the wake of the new virus mutation.