US airlines have have adopted stricter safety policies on flights to and from the Washington, DC-area ahead of the presidential inauguration scheduled for 20 January.
American Airlines, United Airlines, Delta Air Lines, Southwest Airlines, JetBlue Airways and Alaska Airlines, which operate direct flights into the region, all say they are imposing additional requirements on travellers in order to attempt to avoid situations that could pose a safety hazards to crew and passengers.
Most notable of these is a temporary ban on passengers bringing firearms with them in checked luggage.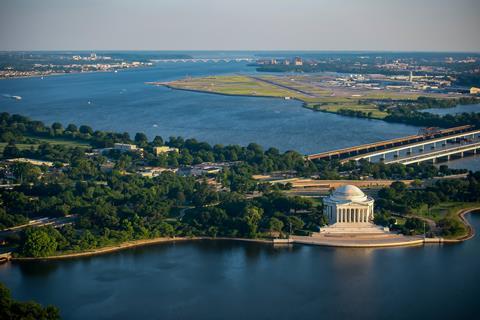 Delta on 14 January was first to announce this ban on flights at two airports nearest the nation's capital – Dulles International airport and Reagan National airport. Chief executive Ed Bastian said airlines are "on high alert" following violence in the nation's capital last week.
The airline has put a note up on its webste encouraging customers "to consider changing their travel plans to the Washington, DC area, in accordance with requests from officials asking people not to travel to the inauguration".
Chicago-based peer United also imposed the weapons ban on 15 January, expanding it to include Baltimore-Washington International and Richmond International airports, which are 58km (35 miles) and 188km away from the US capital, respectively, in addition flights into Dulles and Reagan National.
The United policy will be in effect from 16 January until 23 January.
United will also move crew away from downtown Washington hotels, and beef up staffing at all of the airports. It will also be more vigilant in enforcing its strict no-mask-no-service policy on all flights.
"Since we put our mask policy in place, we have banned about 615 people for noncompliance," the carrier says. "That includes about 60 people who were banned the week of Jan 4." Delta said earlier this week it had banned "north of 800" people from travelling on its aircraft.
Seattle-based Alaska says that in addition to the weapons ban, it will require guests to remain in their seats one hour prior to arrival and one hour after departure from Washington, DC-area airports.
In addition to similar measures, Fort Worth-headquartered American says it is temporarily stopping service of alcohol on board flights to and from the region through 21 January. It is also "revising pre-departure announcements to further emphasise the importance of following crew member instructions and complying with mandatory face-covering policies".
The steps come after a violent pro-Trump mob stormed the US Capitol building on 6 January in an attempt to disrupt congressional proceedings to confirm Joe Biden as the next US president, leaving destruction and mayhem in its wake. Five people were killed. Early the next morning, Biden was certified as the winner of the 2020 presidential election.
Law enforcement authorities fear a repeat in the days leading up to the inauguration and have reportedly uncovered numerous plans that call on protesters to come to the city again, this time with weapons.
Earlier this week, the FAA warned it will not tolerate violent, unruly or harassing behaviour aboard aircraft following numerous incidents on flights to and from the Washington, DC area last week.
FAA Administrator Steve Dickson signed an order that enforces a more-stringent policy against passengers who create disturbances that could compromise safety. Violation of the order could end in a fine of up to $35,000 and a jail term.