Surveillance video images purporting to show an ill-fated Bek Air Fokker 100 being prepared for departure from Almaty indicate the aircraft's horizontal stabiliser was de-iced.
The footage does not appear to show the de-icing vehicle spraying the aircraft's wings, although there is no confirmation as to whether the wings required de-icing or whether they were de-iced before the video sequence commenced.
None of the images has been independently verified as featuring the Fokker 100 involved in the 27 December accident. But the video has been distributed on social media by the same source which obtained images of the Bek Air jet's take-off roll and ground impact.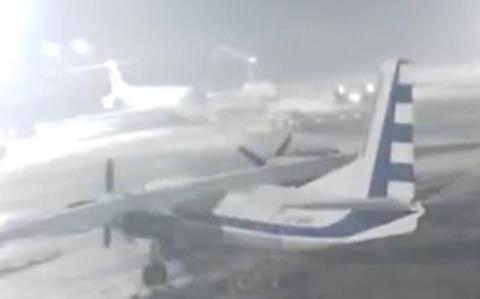 The images – time-stamped at around 07:00 on 27 December – show a Fokker 100 being approached by a de-icing truck which travels along the left side of the jet, elevating its spraying boom before dousing the right and left horizontal stabiliser.
After completing the work the vehicle's boom lowers and it withdraws. The jet is then seen to be towed from its parking position at about 07:10, around 10min before the accident involving Bek Air flight Z92100 to Nur-Sultan.
Investigators have yet to disclose initial findings from the probe into the crash, which resulted in 12 fatalities.