Vietnamese authorities are said to be investigating why an Airbus A321 was able to continue operating having sustained substantial damage to its aft fuselage, apparently from a forklift vehicle.
The Civil Aviation Authority of Vietnam has informed the ministry of transport that the aircraft suffered a fuselage dent beyond permissible limits at Ho Chi Minh City on 17 April, but was then flown to Phu Quoc.
Vietnamese outlet VTC News, which is directly linked to the government, says the investigation will verify the circumstances of the incident.
But it states that surveillance images from security cameras show the aircraft (VN-A603) was undergoing maintenance in the vicinity of its tail, with the assistance of a forklift platform, on the night of 16 April.
The Vietnamese authorities believe the vehicle was extracted "improperly" from the maintenance location, says VTC News, and its protective frame collided with the aircraft.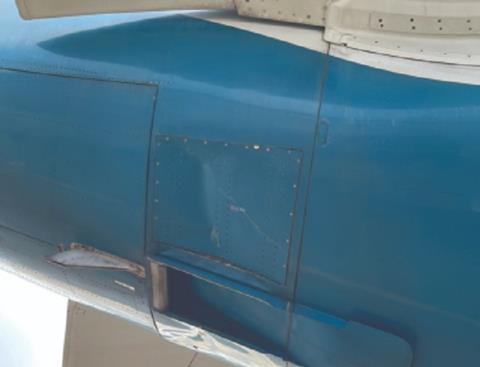 Damage to the jet – including indentations of around 60cm by 50cm, and cracks to the auxiliary power unit doors – was not noticed during the pre-flight check for the VN1823 service to Phu Quoc.
The aircraft was grounded for repair after the damage was discovered upon arrival.
Vietnam Airlines took delivery of the twinjet, powered by International Aero Engines V2500s, in early 2013 and has been its sole operator.