Investigators have indicated that windshear contributed to the landing accident involving a Jubba Airways Fokker 50 turboprop in Somalia earlier this year.
The Kenyan-registered aircraft (5Y-JXN) had been conducting a domestic service to Mogadishu from Baidoa on 18 July.
During the final approach to runway 05, the aircraft experienced windshear at low altitude, says the Dutch Safety Board, which has offered support to the Somali-led inquiry.
After the windshear encounter, it adds, the pilots "lost control of the aircraft" and the Fokker "hit the runway hard".
It flipped over and came to a halt upside-down, sustaining heavy damage in the process. The left wing separated during the accident sequence and a fire broke out.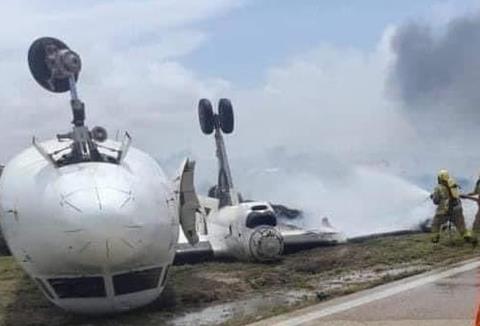 Three of the 30 passengers suffered minor injuries, the safety board states in a third-quarter bulletin. The 30-year old aircraft was also carrying a crew of six.
Meteorological data from Mogadishu airport for the time of the accident shows 18kt winds from the south-south-west – suggesting a tailwind component for runway 05 – but otherwise good conditions.