Boeing has announced a trio of performance-based logistics (PBL) contracts covering platforms in service with the South Korean military.
The contracts, signed with South Korea's Defense Acquisition Program Administration, cover the F-15K fighters and 737-based E-7 Peace Eye airborne early warning and control (AEW&C) aircraft operated by the air force, and the CH-47 Chinook helicopters flown by the army.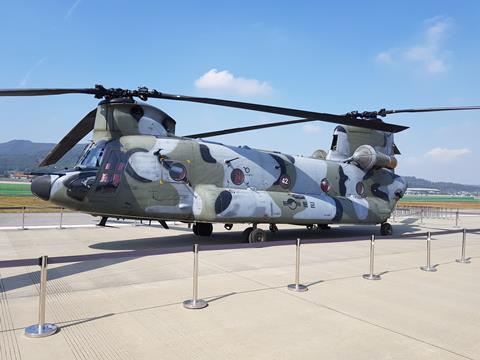 "Our partnership with Korea is continuing to grow as we shift from transactional support approaches to customised models driven by agreed-to readiness outcomes," says Thom Breckenridge, senior director of Far East Programs for Boeing International Government & Defence.
"These agreements enhance the value of PBL contracts that have delivered high mission-capable rates and improved parts forecasting and procurement of the F-15K fleet for more than a decade, and will extend benefits to the AEW&C and CH-47 fleets as well."
Boeing says the contracts will involve local industry in South Korea, and use an "integrated logistics model to coordinate supply chain forecasting procurement, delivery, maintenance training, and risk-management practices" to support air force and army objectives.