Roll-Royce is "very interested" in potentially providing an engine for Embraer's proposed new 70-90-seat regional turboprop project.
Embraer chief executive Arjan Meijer earlier during the Singapore air show reiterated that the Brazilian manufacturer continues to explore the development of a new turboprop and that an announcement about the new programme could come by the end of this year, or possibly early in 2023.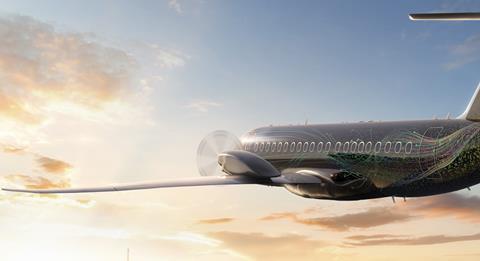 Speaking during a wider briefing at the show, Rolls-Royce president civil aerospace Chris Cholerton said: "We are very interested in supporting Embraer with a potential turboprop engine for this aircraft, we see a lot of potential."
If a Rolls-Royce bid was successful it would mark a return to the regional aircraft engine market for the manufacturer. Cholerton declines at this early stage of discussions to offer any specifics about the possible powerplant but says it "is putting forward a compelling proposition".
Today, the manufacturer's only in-production turboprop engine is the AE 2100 which powers the Lockheed Martin C-130J Hercules military airlifter. It makes an appearance in the civil market aboard the LM-100J commercial freighter.
However, with a rating of 4,700shp (3,500kW), it is vastly more powerful than the 2,750shp of the Pratt & Whitney Canada PW127M, which equips the ATR 72-600 turboprop airliner.
While not specifically commenting on any Rolls-Royce proposition for Embraer's potential programme, Rob Watson, president electrical at the company, says that next-generation regional aircraft do offer the opportunity for greater hybridization to create a more electric engine over time, particularly using electric power as boost power for certain parts of a flight profile.