From the third quarter of 2022, all Singapore Airlines and Scoot flights at Changi Airport will use a blend of sustainable aviation fuel (SAF) in a pilot project fronted by the airline, the Civil Aviation Authority of Singapore (CAAS) and Temasek.
The timing of the announcement was opportune just prior to the Singapore Airshow, which has a strong focus on aviation sustainability.
Under this pilot, SIA, with support from CAAS and Temasek (Singapore's global investment company), will buy blended SAF from ExxonMobil, which has been selected to supply and deliver the SAF at Changi following a request for proposals in November 2021.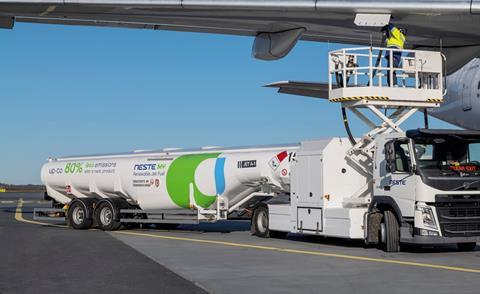 The fuel supplied will comprise 1.25 million litres of neat SAF supplied by Neste and produced from cooking oil and waste animal fats and blended with refined jet fuel at ExxonMobil's plant in Singapore. This blended fuel will be delivered to Changi Airport via the airport's existing fuel hydrant system by July 2022.
"Sustainability will be a key CAAS priority in the coming years as we revive air travel and rebuild the Singapore air hub," said Han Kok Juan, Director General of CAAS. "The CAAS-SIA-Temasek SAF pilot is an important building block in our effort to develop a sustainable air hub. It will operationally validate SAF integration options in Singapore and provide insights on end-to-end cost components, potential pricing structures for cost recovery and support future policy considerations for SAF deployment."
"SAF is a key and available solution to helping aviation achieve its emission reduction targets," said Thorsten Lange, executive vice-president renewable aviation of Neste. "With our Singapore refinery expansion coming on stream in early 2023, we are able to produce up to 1 million tonnes of SAF per annum to serve aviation markets in the Asia-Pacific region and globally."