ST Engineering has partnered with Skyports and Sumitomo Corporation in a nine-month trial to explore using unmanned aircraft for shore-to-ship delivery of parcels.
The pilot, which comes after two years of research efforts, will see the consortium work towards establishing an unmanned aircraft delivery network.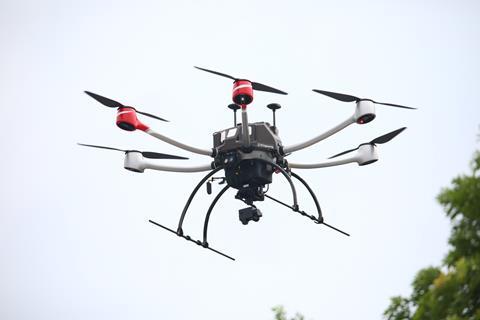 ST Engineering says it will provide unmanned aircraft technology using its DroNet solution, and will work with Skyports to conduct Beyond Visual Line of Sight flight operations to deliver parcels weighing less than 7kg (15lb).
Sumitomo, meanwhile, will provide go-to-market support, which includes the Japanese conglomerate's own fleet of vessels.
"All three partners in the consortium will undertake business development activities by leveraging their existing maritime network," states ST Engineering.
The Singapore company says using drones to deliver parcels can "significantly slash response times and speed up turnaround", compared with delivery by boat.
"Replacing launch boat delivery with unmanned aircraft also helps to reduce carbon emissions and contribute to the maritime industry's overall efforts to operate sustainably," the company adds.
This is ST Engineering's latest foray in the development of drone delivery services. It previously partnered with Wilhelmsen Ships Service to "strengthen the commercialisation and operational aspects" of the shore-to-ship deliveries.
ST Engineering also tapped funding support from Singapore's civil aviation regulator to help develop the service.