Output from Airbus's Chinese narrowbody assembly line in Tianjin remains suspended amid the coronavirus outbreak, as the manufacturer evaluates the situation and potential impact on other production sites.
Speaking at the Singapore air show, senior vice-president for marketing, Francois Caudron said Airbus "froze production in Tianjin" over the Chinese new year (25 January) period when it was already scheduled to be closed, and it has not re-opened since.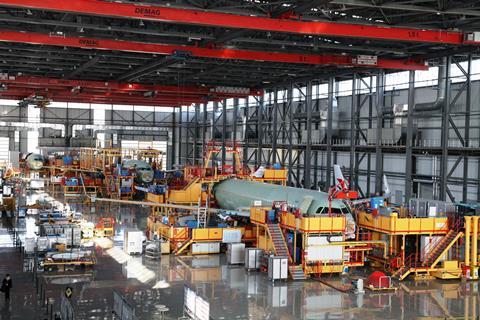 "We are constantly assessing the situation," says Airbus.
Caudron emphasises that the suspension is driven by staffing rather than delivery deferrals from local airline customers.
"It's not related to the fact that we don't need to produce aircraft, it's the fact that you cannot get the workers to come. And you observe that across the industry, it's not just aviation," he says.
Beyond the single-aisle final assembly line, Airbus also has an A330 completion centre in Tianjin and relies on Chinese suppliers for its global production system across its lines in Europe and the USA. Its Chinese joint venture in Harbin supplies composite components for the A320 and A350 families.
Airbus declines to be specific on the status of Chinese supply, saying: "We are still evaluating the situation."