Greek carrier Aegean Airlines returned to profit in the second quarter after trebling revenues following a strong jump back in demand.
Aegean generated revenues of €327 million ($327 million) in the three months ending 30 June 2022. That compared to €109 million for the second quarter of last year and took it it within sight of the €347 million revenue it had for the same period before the pandemic in 2019.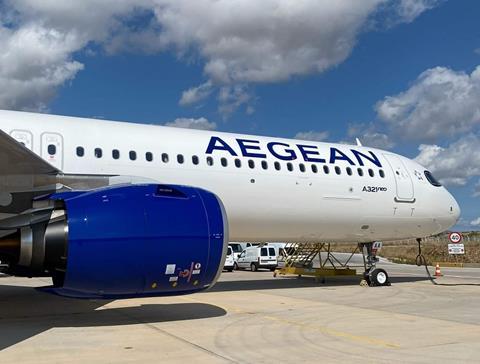 "After two challenging years, it is a fact that revitalised demand, especially strong to Greece, supported traffic recovery," says Aegean Airlines chief executive Dimitris Gerogiannis.
Aegean carried 3.2 million passengers in the second quarter at a load factor of 79.2%. That remains short of the nearly 4 million passengers the airline carried in the same quarter in 2019.
"We managed to return to profitability in Q2 despite the significant increase in fuel costs," Gerogiannis says, adding it is "well ahead" in the key third quarter – the carrier's strongest for revenue and profitability.
Aegean posted a pre-tax profit of €17.7 million for the second quarter and a net profit of €10.8 million. That compares to a loss of €34.8 and €33.9 million respectively for the same period last year. It remains in the red by both metrics for the first half after a loss-making first quarter.
"This positive trend continued during the summer months, where we offered 98% of our pre-pandemic ASK's and achieved load factors of 84% and 3.2 million passengers in the two summer months July and August, supporting further our profitability forecast for full-year 2022," Gerogiannis says.
Aegean is targeting its first profitable year since the pandemic.
"We certainly still have challenges and uncertainties ahead of us," acknowledges Gerogiannis. "We continue to invest with a steady pace to improve our product quality and manage our network and fleet efficiently."