Greek carrier Aegean Airlines posted revenue and profits above pre-crisis levels during a strong third quarter in which capacity was almost fully restored.
Boosted by strong tourism demand in Europe during the peak summer months, Aegean generated revenues of €571 million ($574 million). That is 12% higher than for the third quarter of 2019.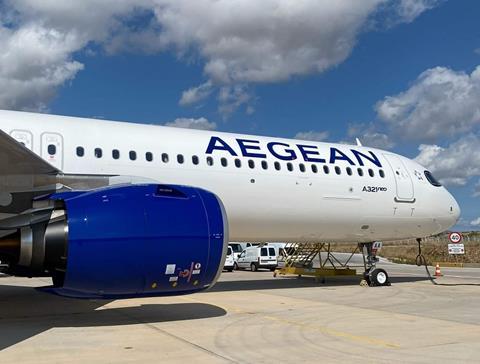 The increase in revenues was driven by higher yields. While Aegean boosted its capacity to 97% of pre-pandemic levels, the 4.66 million passengers it carried were still short of the nearly 5.2 million it flew in the third quarter of 2019. Load factor of 84%, while climbing 14 points on the previous year, was also below pre-pandemic levels.
Aegean made a pre-tax profit of €152 million in the third quarter, a nearly three-fold increase on last year and higher than its 2019 profit of €134 million.
Chief executive Dimitris Gerogiannis says: "We are pleased to have successfully navigated multiple challenges, delivering strong profitability and indeed one of the best set of results for our industry, after two extremely difficult years. Efficient management of our network, fares structure and costs coupled with our people's daily effort to best serve our passengers, contributed to this result.
"We are confident that through further developing our competitiveness and through our investment in our new fleet and new services, we will continue to create value for our shareholders and our country and also to offer our staff new opportunities for development, despite the geopolitical and economic headwinds which once again seem to be increasing."
After a loss-making first quarter, it marks a second consecutive profitable quarter for the Greek carrier. It recorded a pre-tax profit of €121 million for the first nine months of the year, compared with a loss of €33 million at the same stage last year.