Grupo Aeromexico, parent of Mexico's flag carrier, has petitioned to be released from aircraft and engine leases as it seeks to shrink its fleet to reduce costs.
The Mexico City-based carrier, which filed for Chapter 11 bankruptcy proceedings in a US court on 30 June, says it is looking to be released from leases of 19 aircraft, including ten Boeing 737s and nine Embraer 170s.
Five of the Boeings and the E170s would exit the fleet on 1 July, the rest on 15 July.
That would leave Aeromexico with 34 737s and none of the smaller Embraer regional jets in its fleet, according to fleets data from Cirium. Aeromexico Connect, the airline's regional subsidiary, still has 47 Embraer E190 jets in its fleet.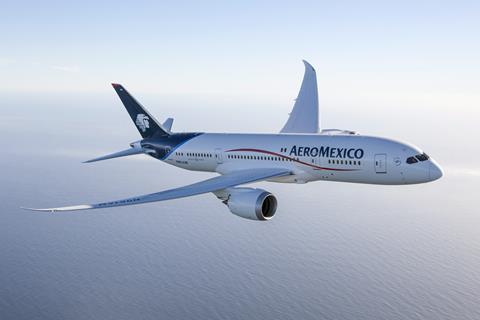 "In consultation with their advisors, the debtors have determined that the excess leased equipment is not necessary for the debtors' continued operation or successful reorganisation, and the debtors seek to eliminate rental, insurance, storage and other costs," the airline writes in a filing dated 3 July.
Pre-coronavirus, the airline also operated 19 787 Dreamliners and had six 737 Max, according to Cirium fleets data. The Max remains grounded after two accidents killed 346 people.
In the filing documents, the airline says it also hopes to return four General Electric CF34-8E5 engines, which power E170s
As of 30 June, the date upon which the company filed for bankruptcy protection, the airline says it had a fleet of 126 aircraft, of which it owned 25. The other 101 were leased – 96 under standard leases and five with purchase options. The company says it paid $36 million dollars each month in rent for aircraft under these 101 leases.
The airline adds that it is being fiscally responsible in streamlining its fleet and reducing the number of different types it operates and will reduce costs for training, spare parts and maintenance.
Aeromexico's first court date in its bankruptcy proceedings is scheduled for 20 July.
Aeromexico filed for bankruptcy just 11 days after it had said it would not, stating at that time that it had been "evaluating alternatives to move towards a better financial position".
It became the third Latin American carrier to seek protection from creditors after the coronavirus pandemic and the ensuing sharp drop-off in passenger demand decimated the air transport industry earlier this year.
Chile's LATAM Airlines and Colombia's Avianca filed for bankruptcy in May after liquidity crises forced them to restructure debt.
Latin American governments have been slow to support their aviation industries, and have provided only meagre financial aid to airlines.