Grupo Aeromexico, the parent company of Mexico's legacy carrier, Aeromexico, has requested to terminate its collective bargaining agreements with its pilots' and flight attendants' unions, as it struggles to continue operating through the ongoing global coronavirus pandemic.
The Mexico City-based airline says on 11 January that it has submitted the request to the country's labour authorities and is making the move in order to stay on track as it works through Chapter 11 bankruptcy proceedings.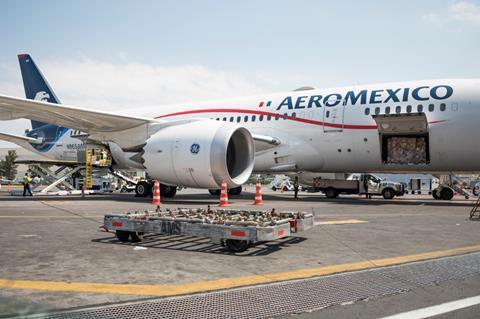 "Based on the force majeure situation in which Aeromexico is, it has requested termination of the collective bargaining relationship, as well as the individual agreements with a certain number of pilots and flight attendants in order to reflect the new operating reality of the company," the airline says on 11 January.
"This situation of force majeure has forced Aeromexico to carry out a workforce reduction as a consequence of the decrease in its ordinary activities," it adds.
The airline filed for Chapter 11 bankruptcy protection in a US court last June, days after it had publicly stated it would not, after the coronavirus pandemic decimated air travel around the world. In the past weeks, it has been negotiating with its unions as it seeks to restructure the company and comply with requirements that will enable it to access fresh capital.
"Aeromexico will continue pursuing, in an orderly manner, the voluntary process of its financial restructuring under the Chapter 11 process, while continuing to operate and offer services to its customers and contracting from its suppliers the goods and services required for operations," the airline says.
"Likewise, it will continue using all the available instruments at its disposal to avoid going from the current financial restructuring situation to a liquidation situation, with the consequent loss of the source of employment affecting thousands of direct and indirect jobs," it adds.
Aeromexico was the third Latin American carrier to seek protection from creditors after the global health crisis caused a sharp drop-off in passenger demand due to strict shelter-in-place orders across the continent and around the world.
Chile's LATAM Airlines and Colombia's Avianca filed for bankruptcy in May after liquidity crises forced them to restructure debt.