Newly restructured Grupo Aeromexico, parent of Mexican carrier Aeromexico, has reported a third-quarter profit of Ps210 million ($10.5 million), rebounding from lows of 2021.
The company posted third-quarter revenue of Ps21.4 billion, 62% more than in the same period of 2021, it says on 19 October. Aeromexico's profit in the three months ending 30 September compares to a loss of PS2.2 billion in the same period last year.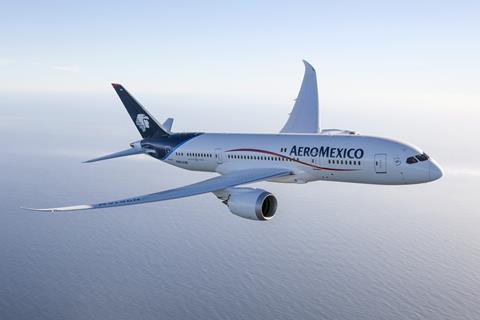 Aeromexico's turnaround comes as the broader Latin American airline sector has started stabilising following many months of turmoil. At the end of August, carriers in the region reached 92.3% of their pre-pandemic passenger capacity, according to trade body ALTA.
Aeromexico's third-quarter capacity – measured in available seat kilometres [ASKs] – increased 31.4% year on year, "primarily driven by the sequential recovery in domestic and international markets", the company says.
Meanwhile, the airline's cost per ASK, excluding fuel, decreased about 13% over the past year, which Aeromexico touts as a sign of its "cost-efficiency achievements".
Aeromexico's unrestricted cash position on 30 September was Ps14.7 billion, down from Ps19.4 billion at the end of 2021.
The Mexico City-based carrier was among several Latin American airlines to file for bankruptcy protection in mid-2020, when air travel was broadly disrupted by the Covid-19 pandemic. Grupo Aeromexico emerged from US Chapter 11 protection in March with a plan to spend $5 billion on fleet modernisations and other upgrades over five years.
Aeromexico has added 19 aircraft since the third quarter of 2021, expanding its fleet to 141 aircraft, the company says. The carrier operates Boeing 787 Dreamliners, 737 Max, 737-800s and Embraer 190s.
The company continues to reposition itself financially. On 19 October, Grupo Aeromexico began the process of exiting the Mexican Stock Exchange as part of its bankruptcy restructuring.