Air Arabia and Etihad Airways' new Abu Dhabi joint venture carrier will finalise its launch plans "as market conditions improve" after securing its air operating certificate (AOC).
The two UAE carriers originally outlined plans last October for Air Arabia Abu Dhabi, which will be the emirate's first low-cost carrier.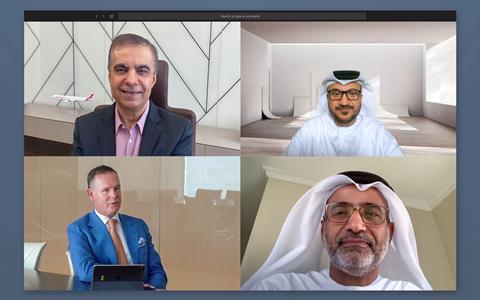 The partners have today announced that Air Arabia Abu Dhabi has received its AOC, enabling it to become the UAE's fifth carrier.
While no formal launch was set, Air Arabia chief executive Adel Ali – speaking last year, before the coronavirus pandemic – previously said the carrier was aiming to launch in the second quarter of 2020.
The carrier today says it will work with the national regulator to finalise the launch date "as market conditions improve and skies are open again". Scheduled passenger flights were halted on 25 March and Etihad has since said it hopes to resume a reduced scheduled network from the start of May – travel restrictions permitting.
Etihad Aviation Group chief executive Tony Douglas says: "Despite these unprecedented times, today's announcement is a message of positivity that reflects the strength of the UAE's aviation industry. We are pushing ahead with our plans to resume normal flying and once we have, Air Arabia Abu Dhabi will ideally serve those who wish to explore new destinations from the capital, meeting the growing demand for low-cost travel in the region and complementing Etihad's own global network."
Ali adds: "Air Arabia Abu Dhabi demonstrates the commitment of the UAE to invest in the aviation sector, and we are looking forward to the launch day, which will establish Abu Dhabi as another key hub in the region for low-cost travel."
Air Arabia Abu Dhabi has been assigned the reservation code 3L by IATA and will adopt the low-cost business model followed by Air Arabia. Sharjah-based Air Arabia already has affiliated operations in Egypt and Morocco.
The carrier has not yet disclosed its launch network.