Latvian carrier Air Baltic generated a €185 million ($215 milion) net loss during the first six months 2020, representing a nearly sevenfold increase from a €26.6 million loss in the same period last year.
Revenue declined 62% to €82.5 million, while the number of passengers fell at a similar rate to around 800,000 during the pandemic against 2.2 million in January-June of last year, Air Baltic says.
The number of flights declined 58% to 12,500.
Chief executive Martin Gauss states the airline began the year on "a solid track [with] sustainable growth" in January and February before it suspended regular scheduled flights from mid-March until mid-May.
"To counteract the crisis, we swiftly cut our capacity and costs, adjusted our business plan Destination 2025 Clean as well as secured financing from our shareholders," Gauss says.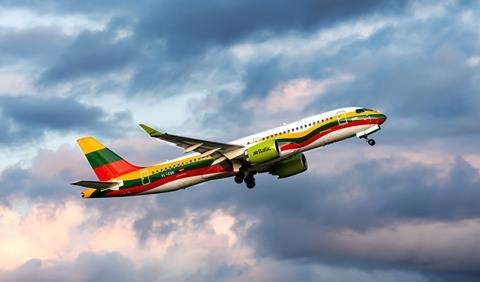 Latvia's government has agreed to invest up to €250 million into the equity of the carrier. The Latvian state's shareholding in the airline will increase from 80% to 91% under the plan.
Measures by the airline included the immediate retirement of its Boeing 737s and De Havilland Canada Dash 8-400 turboprops – the phase-out of these aircraft had previously been planned at a slower pace – and a rescheduled delivery plan of Air Baltic's on-order Airbus A220-300s.
With the initiatives, Gauss argues the airline is an "excellent position to fully deploy" its A220 fleet "when the market recovers".
Cirium fleets data shows the airline has 22 A220-300s – one of which is listed as being in storage – and further 28 on order.
Air Baltic's fleet also includes four 737-300s and 12 Dash-8s, all of which are listed as being in storage.